How it Works:
Web Design Process
Step 1. Free Consultation – Prior to even beginning any project, we have to get to know each other! Every client that I've worked with I pride in building a close relationship. Therefore, it's best that we start off on the right foot. The consultation will be done through phone or Skype depending on your location around the world. In this session, we discuss your business/project goals and visions. And at this point, if you have any other further questions, ask away!
Step 2. Proposal – If we agree to work with each other and feel that we are a match, then I proceed with drafting a project proposal that will outline expectations, timeline, and any other stipulations related to either web or logo design. This proposal will be sent to you for approval and needs to be signed and returned to me. At this time, the agreed upon deposit is due. Note: Deposits are nonrefundable.
Step 3. Questionnaire – After the deposit is submitted, you will receive a web or logo design questionnaire that will allow you to write out all of the elements you want created as well as help make sure that we both are on the same page. This questionnaire will help me achieve the look and feel of what you envision.
Step 4. Navigation Menu / Sitemap Planned – This step is part of the web design questionnaire and I just wanted to highlight this important aspect to the design process. Prior to building out the website, you need to decide on the majority of pages that you want included into the website. This doesn't mean only the number of pages, but also "what purpose" each page serves. This step will help with your content organization, explained in the next step.
Step 5. Text and Image Content Preparation – After deciding on all of the pages you will have on your website, it's time to prepare the text and image content for your website. Prior to starting the web design, I will have prepared a DropBox folder or set of email threads organized by the navigation menu / sitemap you decided upon in the previous step. Failure to have your text and image content prepared prior to the start of the web design project could result in delaying your project completion.
Step 6. Customization Phase – Now here's where the fun part begins. Armed with the theme choice and the content all organized, we can proceed with building out your website. This phase typically lasts anywhere from 2-5 weeks depending on how quickly you want the project to be completed. Site-wide color scheme, headers, body, and footer customizations will all be laid out. For sites that have more advanced customizations dealing with eCommerce or Membership site functionalities, those will be implemented and tested. Note that I reserve the right to include additional add-on fees if new requests are made outside of the initial agreed project proposal. 
Step 7. Website Launch – After fine-tuning last remaining details, it's time to LAUNCH your website! Upon launching your website, I include a complimentary one-hour Skype session to teach you how to navigate and update your own WordPress website. Please note that Whale Pod Works is NOT responsible for any future updates related to the website after project completion unless you purchase a post-maintenance package.
Step 8. Post-Maintenance Updates – For any post-project web design updates you may need will be billed. Please click here to view the Post-Maintenance project packages and information.
I absolutely love my website. Not only is it colorful and exactly what I imagined, but it's also optimized to get people to sign-up on my newsletter list. Harrison hand-held me through the entire process and I definitely appreciated his creative input in defining the best website to showcase my health and nutrition expertise. If you want a "happy" and "healthy" website, you better go with Harrison!
Harrison builds WordPress sites at lightning speeds. I need several different supplement and health sites created on the spot, and he delivered with much attention to detail and design. I didn't need to worry much about the web design as he intuitively understood what I needed built for my projects.
Build a Beautiful and Engaging Website from Start to Finish
The Ultimate WordPress Design Pre-Checklist Guide
Are you lost when it comes to web design? Not sure where to start? Sign-up now, and get the FREE checklist guide to plan and implement an amazing website.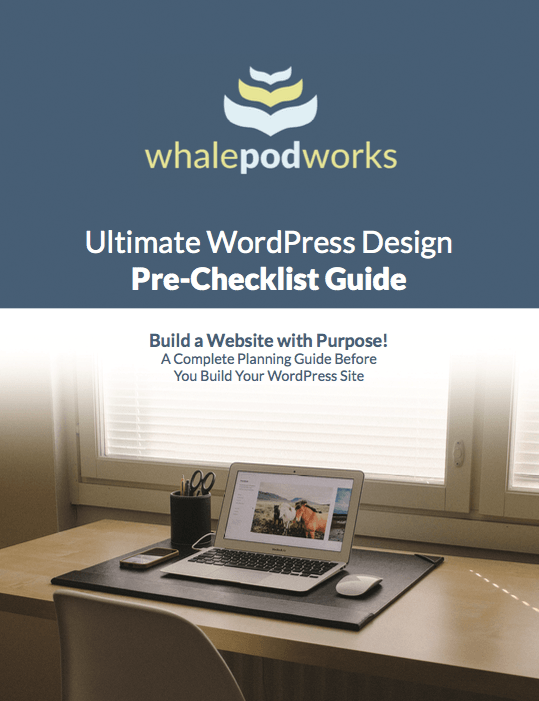 How it Works:
Logo Design Process
Step 1. Logo Color Palette – After you fill out the logo design questionnaire, I will present series of color palettes based on the color choices you've written out in the questionnaire. This is the step where you can decide on how the color choices look next to and/or on top of each other. You might think that choosing colors is very easy, but this step is very important not to hastily gloss over. Color choice and placement will evolve throughout the logo design process, but the main color palette will be chosen during this step.
Step 2. Initial Logo Mock-Ups – After deciding on the color palette used for the logo, I will proceed with creating 3 different mock-up ideas. These logo mock-ups will serve to gauge your initial direction of where the logo will head. Out of the 3 mock-ups, you will choose the one that best resonates with your branding for further fine-tuning and customization.
Step 3. Fine-Tuning Chosen Logo Mock-Up – After choosing the one mock-up to proceed with, I will continue to fine-tune that logo until it is completed. Note that during this process, please be sure to be clear and state all of the details of what works and what doesn't. There is only up to 5 revision rounds included in the logo design project. Additional revisions beyond the maximum of 5 revisions will be billed accordingly.
Step 4. Logo Delivery – After completing the logo, you will have different choices of how you would like the logo to be delivered. I can prepare different logo sizes for your website, print material, and other specifications you may have. Just simply let me know what you plan on using the logo for.
Step 5. Post-Delivery of Logo – Please note that Whale Pod Works is NOT responsible for any future updates related to the logo after completion. That being said, any additional logo adjustments or edits that need to be done will be billed at an hourly rate of $50/hour. If you need any other print material created for your business such as brochures, rack cards, PDF files, and much more – please inquire with me separately for a specialized quote.
I was struggling with my project and beginning to doubt myself, wondering if I should even see it through, and Harrison helped me to realize this is worth doing and I will get there. Our conversation wasn't just about logo design, although that was energizing enough! Harrison also helped me create a plan on moving forward and gave me great tips and tools to keep motivated, stay positive, and set realistic goals to keep the momentum. He really gets my vision and I can't thank him enough. I can't wait to continue this journey and have Harrison's technical and motivational expertise be a part of it!
I recently started a new business and needed a logo, website and marketing material. Harrison magically simplified everything and really listened to what I wanted. His logo creation is perfect! I couldn't believe how cool it turned out. And I love the website he crafted, it's perfect too! and the color scheme he recommended is very professional and eye-catching. I also love that he is vigilant about communications, he always responds quickly and keeps my account organized. I'm so happy I connected with Harrison. I will refer all my friends! Mahalo nui loa!
Awaken (Starter) Package – $1,110+
For those starting out with new business and looking for the basics of website up to 5 pages including homepage, general gallery, and/or simple contact page.
Uplifting (Intermediate) Package – $3,330+
For those looking to take it to the next level and looking for intermediate website up to 10 pages, including homepage, customized galleries, starter e-Commerce set-up, and/or customized contact page/booking calendar.
Ascension (Advanced) Package – $5,550+
For those looking to take their business to the "ultimate level" and looking for advanced website design up to 20 pages, including homepage, customized landing page, customized galleries, intermediate e-Commerce set-up, intermediate Membership website, and/or customized contact page/booking calendar.
Custom Creator (Ultimate) Package
Starts from $9,990 and up. Need something that the other packages don't include? Want the universe of customization at your hands. This is for advanced e-Commerce, advanced Membership websites, and/or advanced custom websites.
Note: Whale Pod Works does not host websites. You will need to have your own domain and hosting. I recommend Bluehost as the choice of reliable and affordable hosting solution. I will make a small commission at no extra charge to you if you sign-up with Bluehost with my affiliate link. I only recommend products that provide value so please only sign-up with Bluehost if you find it helpful for your business needs!
————
Premium Logo Design
$555+
Flat rate, that includes logo consultation, black/white draft, color theory, final logo files and sizes for different end use.
————
Other Graphic Design
Please inquire for custom project design quotes.
————-
I accept payments through the following options for deposits and/or payment installments:
PayPal or Bitcoin (If you have other cryptocurrency, please let me know as I maybe able to accept as form of payment)
I was extremely pleased with Harrison's creative input, suggestions and on time execution for the supplement website, Sexy Nutrition. He's professional and always willing to take the extra mile to make sure the website design and branding are aligned with my business goals.
I was looking for a website that showcased all of my fitness talents, from yoga to surfing. Harrison did the job, beautifully creating a logo that I imagined, bringing it to life and designing a website that represented the essence of my fitness works. Do not hesitate to work with him, as he is the guy to guide you though the entire web design process from start to finish!
Post-Maintenance for Your Website
Includes monthly small text and image updates along with "basic" website backend upkeep*
*(While Whale Pod Works conducts the best possible methods (routine plugin/theme updates, website backups, etc) to limit security issues, we are not liable for loss of website content due to your hosting company or if your hosting company terminates without warning.) – Please see the other Commonly Asked Maintenance Questions.
$55 per month (6-month minimum)
Commonly Asked Maintenance Questions
How many updates can I have per month?
For "small" text content or image content edits and changes, up to 5 per month. If your monthly updates exceed 5, the additional changes will be $11 per update.
Does my post-maintenance include essential updates?
The post-maintenance includes updates to the following:
WordPress core
Your WordPress Theme
General Plugins
While Whale Pod Works conducts the best possible methods (routine plugin/theme updates, website backups, etc) to limit security issues, we are not liable for loss of website content due to your hosting company or if your hosting company terminates without warning.
How do I sign-up for post maintenance service?
Simply go to the
"Client Payment" page
and select the Post-Maintenance payment. You have the choice to choose from:
Post-Maintenance – $44 per month (recurring payment set-up via PayPal)
*Please confirm your login information to your hosting account and/or set-up a separate login account for me to access your hosting account.
What if I want to cancel my post-maintenance plan?
Please contact at i
nfo@whalepodworks.com
 to request plan cancellation.
If you are signed up for a monthly billing plan, then your plan will simply be cancelled via PayPal. No refunds of current or previous months.
How do I submit a changes/updates request?
Simply email me
info@whalepodworks.com
the change/update you request.
It's as easy as that!
What are the limits to the type of changes/updates I can request?
In order to ensure quality control and our ability to provide the best WordPress maintenance service, we require that you review the list of approved tasks.
These tasks should be small in nature and not take more than 30 minutes per task. These include:
Text edits/paragraph additions
Image additions
Page Layout rearrangement
Additional new pages may fall into this area, however, these are on a case-by-case basis determined by the level of difficulty.
What changes/updates are out of scope?
The following are some examples:
Creating a new website
Designing a logo
Designing any graphics
Creating a theme
Any direct theme customizations
Creating a plugin
Any form of SEO (backlinks, on-site, guest posting, etc.)
Any form of internet marketing (email list, webinar, etc.)
Creating and setting up your emails
Content creation (text or image content)
Migrating site from host to host
Any websites hosted by WordPress.com
Configuring DNS or SSL
Frequently Asked General Questions
Do you host websites?
Whale Pod Works does not host websites. You will need to have your own domain and hosting. I recommend 
Bluehost
 as the choice of reliable and affordable hosting solution. You will be responsible for your own website upkeep after project completion of project unless other arrangements are made for post-project maintenance.
Note: I will make a small commission at no extra charge to you if you sign-up with Bluehost with my affiliate link. I only recommend products that provide value so please only sign-up with Bluehost if you find it helpful for your business needs!
What is the web design process like?
The web design process at Whale Pod Works is individually tailored to each client, with milestone steps to be accomplished for successful launch of the project.
All workflow processes will be slightly different based on project scope and client specifications, however, you can read more about the general workflow process by clicking here.
What is the logo design process like?
Again, similar to web design process, each logo creation is tailored to the client business keeping in mind the overall branding goals.
Read more about the logo design process by clicking here.
What is the pricing for the services?
WordPress web designs generally start at $808. Logo designs are $555.
These are simply starting prices and the finalized quote will depend heavily on other circumstances related to your project end goals. Please reach out to me to get your estimated quote.
Please click here to see the full pricing of my services.
Do you provide any post-maintenance website services?
Yes, I provide post-maintenance services.
Please click here to see the options.
What is the best mode of communication?
Since many clients are located "around the world", it is quite difficult to have a set scheduled office hour time period that accommodates all time zones. Therefore, I have set a policy of having at least 3 days prior notice of a scheduled phone or Skype call.
Should you need to cancel a session, please notify me at least 1-2 days prior to scheduled session. Abuse of missing sessions will revoke any schedule session privileges. Please email me to schedule a phone/Skype session ONLY!
Otherwise, the best way to reach out to me is through email. Note that I try my best to give you a reply within 24 hours, but sometimes it may take up to 48 hours. Please be patient.
It was absolutely a splendid time working with Harrison in developing a side project I always dreamed of. Harrison advised and gave helpful creative direction in building the online shop where I can sell fitness t-shirts. Upon launch, I was excited to get customers buying gear without any hassle. He's the designer to go to for your fitness web design!
Harrison is the most professional website designer I have worked with.  He listens and then brings results quickly.  I'm amazed at how quickly he responds to whatever issue I may be having or change I want to make on my website.  I have highly recommended him to many of my friends and all of them have been delighted by his creativity, responsiveness and professionalism.  I would not want to work with anyone else!
Discover how you can transform your website today.